LPWAN (Low-Power Wide-Area Network) – a technology for transmitting data over a radio channel for networks with a high density of devices, which belongs to the class of Internet of Things (IoT) technologies. The feature is low power consumption and wide-area coverage. The advantages are range, speed and energy efficiency. The LoRaWAN module reads the data at a given frequency and transmits it via an encrypted radio channel to the base station. Then, through the IP channel, the data is sent to the server, where the electricity supplier gets access to it.
Smart meters MTX with LoRaWAN (LPWAN) are ideal for rural areas, small towns, cottage settlements and country cooperatives. Instead of routers, we offer 2 types of LoRa gateways (Gateway), the first for outdoor installation (outdoor), which is designed to create a so-called "macro network", is installed on an elevation (pillar, roof, etc.), the second – for installation inside the house (indoor), installed inside the premises (staircases, cable shafts). All data is transmitted through the gateway by the network server (Network Server), then data reading and processing takes place using our Matrix AMM software.
Data collection within one base station can take place from tens of thousands of devices. This provides a very simple "Big Star" network organization scheme, where there is no relay, that is, each device works with the most "audible" base station. LoRa provides wide territorial coverage. Counters can be located at long distances from the base station. The survey of metering devices on the area of ​​the quarter/district/city takes place without intermediate equipment. Pilot projects demonstrated that in a dense urban development, the meters effectively transmitted readings at a distance of 1.5-2.5 km, and in an open uninhabited area up to 80 km.
Usually, LoRaWAN meters in the world are used only for rural areas. But TeleTec has created a universal solution for working in standard LoRaWAN (LPWAN) infrastructure and adapted it for dense urban development, the efficiency of which is much higher than that of basic technologies. The low price of meters, low integration costs, and a small number of base stations make this solution a reliable, economical and highly efficient tool for obtaining a large amount of data, drawing up a balance and load schedules. Counters are easily integrated into the network and allow you to build a private network.
LoRaWAN system operation scheme depending on the building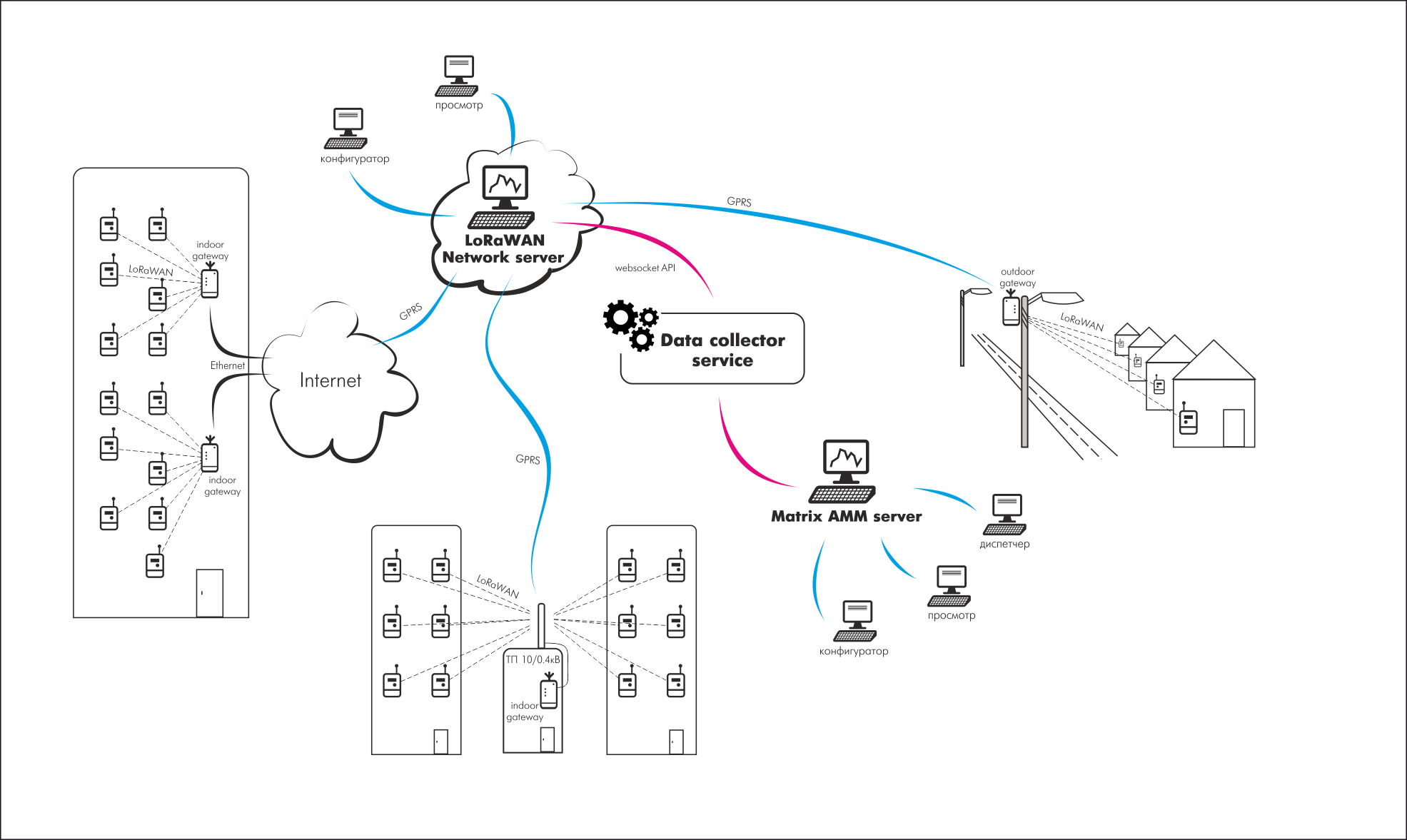 Sluice FemtoLite Indoor Gateway
WLRGFM-100 is an 8-channel gateway that complies with the latest LoRaWAN v1.0.3 specification. The gateway has Ethernet and 2.4G 802.11b / g / n Wi-Fi. The Browan gateway uses a patented repeater mode and can actively scan for channel availability and receive RSSI levels. The gateway supports the packet forwarding mode and, thus, can serve third-party network servers with the UDP protocol, for example B. TTN or ChirpStack. If desired, it is also possible to send data to the MQTT broker.
1 x SX1301 / SX1308 + 2 x 1257 LoRa Tranceiver
Maximum output power: 27dBm
Sensitivity: -142 dBm
1 Ethernet port 10M/100M RJ45; 1 x 2.4GHz WiFi (802.11bgn)
1 USB host port
5V 2A mini-USB power supply included with EU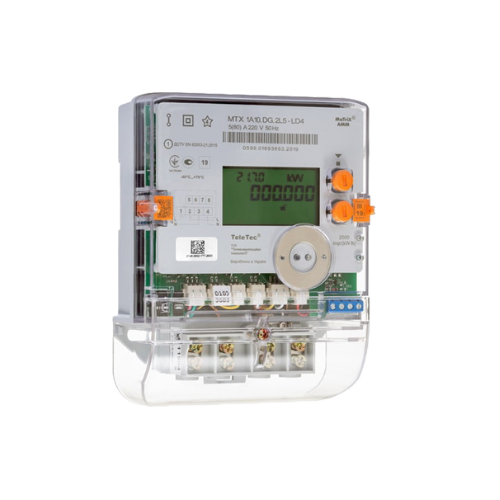 Single-phase smart meters MTX1 (1nc5)
– Energy metering: А+
– Max current, A: 80
– Nominal voltage, V: 220
– Accuracy class: 1
– Measuring elements: 2 (phase + neutral)
– OBIS codes on Display
– Tamper & theft protection (open-case, open-terminal case sensors)
– Optoport hardware protection by sealed button
– Software access & parametrization protection by three level password
– Transparent case for PCB visual control
– Magnetic / Emagnetic protection
– Non-separable case with plastic build-in seals with unique number (QR-codes)
– Tariff scale support in and out of AMM
– Data transfer modems: PLC, TWI, LoRaWAN
– 30-min load profile
– Remote load control/limitation by meter case built-in relay
– Remote meters parametrization by AMM or local by infrared port
– Calibration interval – 16 years
– Warranty – 5 years
Three-phase smart meters MTX3 (3nc3)
– Energy metering: А+R± (DC), А±R± (TС)
– Max current, A: 5(80) – DC, 5(10) – TC
– Nominal voltage, V : 3*220/380 – DC, 3*57.7/100, 3*220/380 – TC
– Accuracy class: 1/2 – DC, 0,5S/2 – TC,
– Measuring elements: 4 – DC, 3 – TC
– OBIS codes on Display
– Tamper & theft protection (open-case, open-terminal case sensors and magnet & Emagnet sensors)
– Optoport hardware protection by sealed button
– Software access & parametrization protection by three level password
– Transparent case for PCB visual control
– Magnetic / Emagnetic protection
– Non-separable case with plastic build-in seals with unique number (QR-codes)
– Tariff scale support in and out of AMM
– Data transfer modems: PLC,  TWI, LoRaWAN
– 30-min load profile
– Remote load control/limitation by meter case built-in relay (DC only)
– Remote meters parametrization via AMM or local parametrization via infrared port
– Calibration interval – 10 years
– Warranty – 5 years
Three-phase smart meters MTX3 (3nc1)
– Energy metering: А+R± (DC), А±R± (TС)
– Max current, A: 5(120) – DC, 5(10) – TC
– Nominal voltage, V : 3*220/380 – DC, 3*57.7/100, 3*220/380 – TC
– Accuracy class: 1/2 – DC, 0,5S/2 – TC,
– Measuring elements: 4 – DC, 3 – TC
– OBIS codes on Display
– Tamper & theft protection (open-case, open-terminal case sensors and magnet & Emagnet sensors)
– Optoport hardware protection by sealed button
– Software access & parametrization protection by three level password
– Transparent case for PCB visual control
– Magnetic / Emagnetic protection
– External antenna socket (2.5m antenna included)
– GSM/GPRS module in meter front panel slot
– SIM-card & antenna replacement without meter power disconnect
– Tariff scale support in and out of AMM
– Data transfer modems: CSD/GPRS, PLC,  TWI, LoRaWAN
– 30-min load profile (archive depth up to 123 days)
– Support up to 6 independent channels for energy archives
– Remote load control/limitation by built-in relay (only DС models)
– Remote meters parametrization via AMM or local parametrization via infrared port
– Calibration interval – 10 years
– Warranty – 5 years